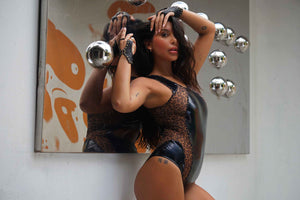 Take a walk
on the wild side
Ethically Made Festival Wear
Never Miss a Beat in Our Festival Fashion
We believe life is a celebration and one should dress for the occasion.
Love Khaos pushes festival fashion boundaries with the sharpest tailoring, flashiest fabrics, and boldest silhouettes. Our ethical festival wear is designed to be striking and constructed with longevity in mind. We encourage you to curate a wardrobe of select, well-made pieces you love, instead of piles of clothing you will only wear once. We make everything in-house the slow fashion way: we minimize textile waste, pay above living wages, and honor our people and planet with each garment we create. When you invest in a Love Khaos piece, you're collecting something exceptional, thoughtful, and empowering.
Discover the difference. Wear the best.
We create magical garments for all people. No matter what your personal aesthetic looks like, we have something special to help you look and feel fabulous. If it's men's festival clothing, or women's festival outfits and gender fluid clothes you're after, explore our luxury festival attire to find the pieces that speak to you and match your vibe. From desert raves to beach festivals and every party in between adorn yourself in pieces that match the exquisiteness of your personality!
Get Rave Ready With Our New Arrivals
We're always designing and creating here at our festival clothing store, so watch this space to see the new things that we're bringing to life. All new and just for you, our newest drop of festival fashion is live. These collections are full of holographic outfits, futuristic silhouettes, and striking statement pieces designed to move with you. Check out our festival attire now and discover your next favorite go-to here.
Ready to Be Tempted With Our Best Sellers?
Check out some of our most popular pieces for inspiration. Festival fashion is all about individual self-expression, but sometimes the most coveted styles are the essential pieces you need to complete your new look. Stick with our iconic designs that you've seen on the red carpet, in music videos, and in magazines, or mix and match your favorite festival costumes to create your own one-of-a-kind vibe.