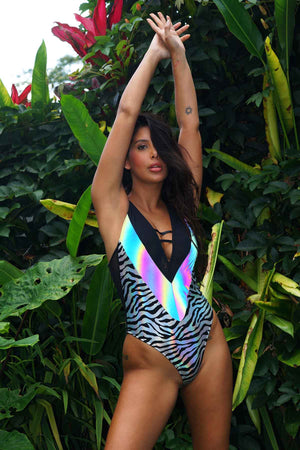 RESTOCKED: Galactic Jungle
Never Miss a Beat in Our Festival Fashion
We believe life is a celebration and one should dress for the occasion.
Love Khaos pushes boundaries with the sharpest tailoring, flashiest fabrics, and boldest silhouettes. Our ethical festival wear is designed to be striking and constructed with longevity in mind. We encourage you to curate a wardrobe of select, well-made pieces you love, instead of piles of clothing you will only wear once. We make everything in-house the slow fashion way: we minimize textile waste, pay above-living wages, and honor our people and planet with each garment we create. When you invest in Love Khaos's festival fashion you're collecting something exceptional, thoughtful, and empowering. Discover the difference. Wear the best.
We create magical garments for all people. No matter what your personal aesthetic looks like, we have something special to help you look and feel fabulous. If it's men's festival clothing, or women's festival outfits and gender fluid clothes you're after, explore our luxury festival attire to find the pieces that speak to you and match your vibe. From desert raves to beach festivals and every party in between adorn yourself in pieces that match the exquisiteness of your personality!
Get Rave Ready With Our New Arrivals
We're always designing and creating here at our festival clothing store, so watch this space to see the new things that we're bringing to life. All new and just for you, our newest drop of festival fashion is live. These collections are full of holographic outfits, futuristic silhouettes, and striking statement pieces designed to move with you. Check out our festival attire now and discover your next favorite go-to here.
Ready to Be Tempted With Our Best Sellers?
Check out some of our most popular pieces for inspiration. Festival fashion is all about individual self-expression, but sometimes the most coveted styles are the essential pieces you need to complete your new look. Stick with our iconic designs that you've seen on the red carpet, in music videos, and in magazines, or mix and match your favorite festival costumes to create your own one-of-a-kind vibe.
SHOP looks from the press
Frequently Asked Questions
There are definitely no rules for festival fashion! That said, we recommend considering both fashion and function as you plan your festival attire. Clothes that are comfortable, lightweight, and breathable are perfect for those long days and nights dancing. You never know what the weather might have in store, so you may want to pack some layers.
As far as style, anything goes! Let your inner flower child free with '60s-inspired outfits. Wear something glamorous, futuristic, flashy, or rebellious. Get creative with it!
Dial up your usual style to 11 with wilder embellishments like animal prints, mesh, flames, or holographic clothes. Or, go all out with an extravagant, one-of-a-kind costume with all the festival accessories—feathers, leather, sequins, studs…the works! Wear empowering festival fashion that makes you feel confident, and have some fun with your look!
Love Khaos is the ultimate festival clothing store, so explore our ethical festival wear for inspo!
You can wear pretty much anything at a rave—all colors of the rainbow are more than welcome! Loud, neon colors are very popular among ravers. Or, you could go with a goth aesthetic with a moody, all-black outfit. Metallic and reflective rave clothing look amazing under the lights, and don't forget the glow-in-the-dark body paint and accessories. Just like festival fashion, rave wear offers infinite styling freedom.
Yes! And, orders over $250 USD ship for free.
Like festival attire, you'll want to consider both fashion and function when selecting your footwear, especially if you plan on hitting the dance floor! Sneakers make great dancing shoes, so try to find a pair that matches your outfit. 
That said, a pair of massive platform boots may not be the most practical option, but they can look absolutely stunning—you may want to bring some backup sneakers in case you need to give your feet a rest. Whether you're planning your rave or festival fashion, it's always wise to pack some spare essentials just in case you need to do a quick change.
Rave etiquette can be summed up by the unofficial motto, philosophy, and code of conduct: PLUR, which stands for Peace, Love, Unity, and Respect. It's pretty self-explanatory! Follow the platinum rule—treat others exactly how they wish to be treated.
Make sure to check out our size chart, and read the fit notes in the description of each item you are interested in as since we use so many different amazing fabrics, our festival fashion varies in size and fit from style to style.
Still need help? We are always available to chat about sizing just shoot us an email at AllTheThings@LoveKhaos.com.