The Alternative
to Fast Fashion
Do Good. Look Good. Feel Good.
We believe you can Always Do Both
Ekoluxe is a woman-owned, sustainable clothing brand born from a desire to make garments that are equally as sustainable as they are stylish. 
We recognized that the fashion industry desperately needs change and the only way to make a difference is to be the change we want to see. To do that we put the health of our planet and her people at the forefront of every decision. We know ethics and environmental consciousness are vital to both our evolution and our survival.
We believe you can always do both. By that we mean fashion and function should play well together, you can be both comfortable and well dressed. Packing for a trip should be easy. Your clothing can be cozy enough for the journey and stylish enough for the destination. To accomplish this, each piece we make is modern yet timeless and designed to transcend seasons and withstand trends. We stand for conscious consumption, quality over quantity, and doing more with less.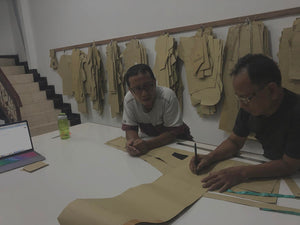 We aren't reinventing the wheel, we are just making it rotate to a more sustainable rhythm.
slow Fashion
ETHICS. INTEGRITY.
We are a small business comprised of six people who literally do all the things. Four of the six members of our team are full-time tailors (adult employees) who work in our private studio space. Every Ekoluxe piece is designed, cut, sewn, and shipped directly from our studio in Bali, Indonesia. We make everything "in house" to ensure that all of our tailors are paid well and that they, as well as their families, receive health benefits. We have a strict policy for: NO sweatshops, NO child labor, & NO discrimination. Manufacturing our own clothing (not using factories) guarantees our ethics are never compromised, and our clothing is always of the highest quality and the lowest carbon footprint. We make every garment to order to minimize waste and to offer a wider range of sizes and modifications so your Ekoluxe piece fits you exactly the way you want it to.
Our small team has been working together for years, since nearly the beginning of Love Khaos, and feel like family. We will always provide our staff safe and spacious working conditions, salary that is 4-6 times the average salary in Bali, health benefits, daily lunch money, paid time off and reasonable hours. We don't furlough, force overtime, or discriminate. 
We only work with independent, local artisans for anything we can't do in-house such as dye our fabrics, cast our metal hardware finishings, and make our shipping supplies. We believe traceability, transparency and accountability are important because they keep us honest. We are passionate about being part of the slow fashion movement, and proud to be part of the solution instead of part of the problem.
An affordable luxury product with the highest quality standards
Quality. Craftsmanship.
Loved clothes last, so do well made ones. We guarantee that ours are both, loveable and well made, 'cause you should always do both.
We build clothing to last because the most sustainable way to live is to buy less. Our thoughtful construction methods, product testing, and meticulous quality control make our garments durable and strong for their lifetime.